"Oh Yeah, That's Totally a Nipple": An Interview with Marie Sena
For the past 3 years, tattoo artist Marie Sena has specialized in 3D areola tattooing for women who have undergone breast reconstruction surgery. Sena is one of the many tattoo artists around the country helping women to reclaim and to know their bodies again after surviving breast cancer. What sets Sena apart from other tattoo artists doing the same work is her graduate study and complementary part-time career in Biological and Pre-Medical Illustration. Working out of her studio, Electric Eye/Dallas Medical Tattoo, co-owned by her and her partner Caleb Barnard in Dallas, TX, she is one of the only tattoo artists in the US with such a niche specialty.
Sena never intended to go to college, but without her knowledge, Sena's mother sent applications to various colleges around the country. She was accepted to Iowa State University with a scholarship, and moved from Santa Fe, New Mexico to the Midwest, a place she never really imagined herself. When she started at ISU, Sena didn't know what she wanted to do, but with an interest in and talent for art, she decided on graphic design, which she soon dropped.
"It was horrible and boring," she tells me. And when she went to change majors, she remembers, "My advisor handed me this pamphlet with this little beautiful pen and ink drawing of a bobcat and it was just so beautiful. It said BPMI- Biological and Pre-medical Illustration at Iowa State University, and I was like 'What the hell is this shit?'" BPMI is a unique field of study that focuses on botanical, veterinary, and medical illustration. This is not a well-known or popular major, and as it turns out, ISU is one of the few universities in the United States that has such a program for undergraduates. Not one to believe in fate, Sena still concedes that "it's just so strange that I ended up in this school, which is like the only school that has this program."
After cultivating her illustration skills and graduating with a bachelor's in BPMI at ISU, she started graduate school at the University of Texas Southwestern, an internationally renowned medical school. There she studied human anatomy and physiology alongside medical students while also mastering the art of visually communicating all aspects of medical content, a study no longer offered at UTSW. Her time at UTSW continues to be valuable as the relationships she forged there have led to her continued work in the Obstetrics and Gynecology Department. She still works with UTSW doctors illustrating medical textbooks and creating guides to help OBGYNs better care for and examine women who suffer from chronic pelvic pain.
But throughout her academic study, Sena never lost interest in tattooing, an interest that began long before her career in biological and medical illustration. "I started getting tattooed when I was fifteen, which is way too young and should not have happened," Sena says, laughing. All throughout her studies, she continued to get tattooed, and finally, she decided to pick up the needle herself and apply her artistic skills to tattooing others. After she graduated with her master's from UTSW, she entered into a tattoo apprenticeship and decided to make tattooing her main career focus.
For years, Sena continued freelance medical illustration work, even landing a book contract, while she bumped around from tattoo shop to tattoo shop gaining experience and growing a clientele. When tattooing in Colorado, Sena did her first mastectomy scar cover-up, a hummingbird and flowers. The client also happened to be a nurse who had been on both sides of breast cancer as a patient and a healthcare professional. Sena remembers the nurse telling her, " 'They need people like [you] to do areola tattooing; only nurses are doing that. It's not very artistically well-developed. You should look into this because you have like a weird skill set.' "
When Sena moved back to Texas, she connected with her contacts at UTSW, specifically a doctor who does about 380 breast reconstructions a year. But before she could start tattooing areolas on clients, she had to prove that she could do it at all. To build a portfolio, she practiced on herself and her partner, Caleb. "I still have this damn areola on my leg, and I forget about it until I'm wearing shorts. Someone will say something to me, and I'll be like "Oh yeah. That's totally a nipple."
In a recent Broadly article, Kimberly Lawson notes that more and more women are opting for areola tattooing instead of areola reconstruction, which would mean yet another surgery for women who have sometimes undergone multiple procedures. Rose Marie Beauchemin of the Beau Institute of Permanent & Corrective Cosmetics has been teaching and advocating for areola pigmentation over reconstruction for years.
Many of the people who perform this technique are aestheticians or nurses and surgeons, and they typically work out of the hospital itself. Sena, however, works out of her own studio. Sena says that in her experience, "when it comes to doing big areas [aestheticians, nurses, surgeons] just aren't using the right stuff or the right ink." What sets Sena's areola tattoos apart from others is her combined experience in medical and anatomical illustration, her knowledge of the human body, and her artistic eye in knowing how to specially mix inks to fit individual skin tone and create a 3D image.
The act of tattooing to mark the end of a struggle with breast cancer is not necessarily new. Tattoo artist Charlie Wagner had tattooed nipples on women who had breast reconstruction surgery since the 1940s. As Margot Mifflin writes in Bodies of Subversion: A Secret History of Women and Tattoo, areola tattooing became more sophisticated in the 1990s, and with a rising demand for them, Congress passed the Breast Cancer Recovery Act in 1999, which allows physicians to include any type of recovery tattooing, decorative or otherwise, to be paid for by insurance.
Some women, Mifflin notes, object to areola construction and pigmentation on political grounds. Writer and eco-feminist Andree Connors told Ms. magazine in 1992 that if everyone gets breast prostheses, then they will look normal, which, in turn, makes breast cancer "an invisible epidemic. So the message does not get across to the world that we are being killed off by breast cancer." Mifflin cites another breast cancer client, Marcia Rasner, who felt that reconstructive surgery would only " 'make other people feel good about the fact that I've had cancer,' " or to satisfy the demands of the American Cancer Society, which encouraged prostheses.
But sometimes, the personal is not political; it's just personal. Sena believes that no matter what kind of tattoo clients ask her for, either 3D areola tattoos or embellished tattoos, this process is an essential part of ending their painful journey with breast cancer. Sena says, "It's closing the book. It's the last thing. The doctors have stitched you up. They've given you breast implants. Or they've given you tissue transplants from your belly fat. But that's where they leave you. So [these women] are left in this Barbie doll state, where it's like 'well, you're alive, be happy with that.' " Sena has clients who say they can't stand to look at themselves, others who refuse to shower with the lights on. Whatever kind of tattoo a client requests, Sena says, "my goal is to get you to be stoked to look in the mirror again. You need something. You can't just be left with the remnants of this horrible disease."
Sena's expertise with 3D areola tattoo is not the only thing that draws people, especially women, to her studio. The first time I went to Sena a couple of years ago to get a tattoo, she told me that she is best known for her images of women. "I like drawing women so much because there is just so much I can do with them. I like to really trick them out with great hair, or with some sort of awesome outfit," she says, "[Women] make the most amazing tattoos." Sena's tattoos of women are not the stereotypical bare breasted sexy lady tattoos that (mostly) men have. Instead, Sena's women are complex and narrative, and it's mostly women that ask for them. "Sometimes I feel like [women] are asking for their totem. They'll maybe ask for like Athena."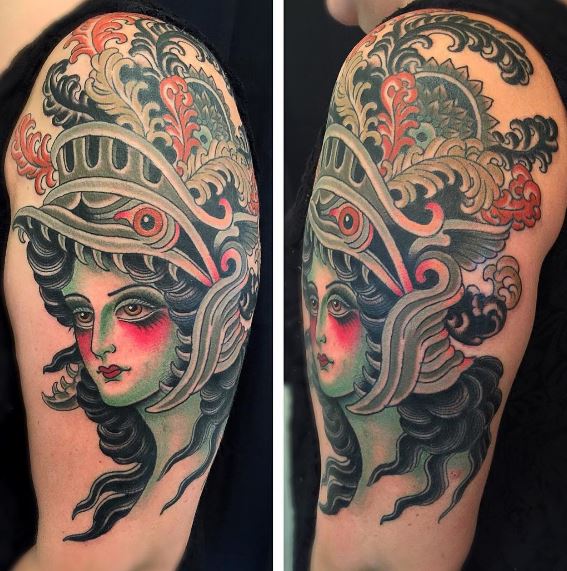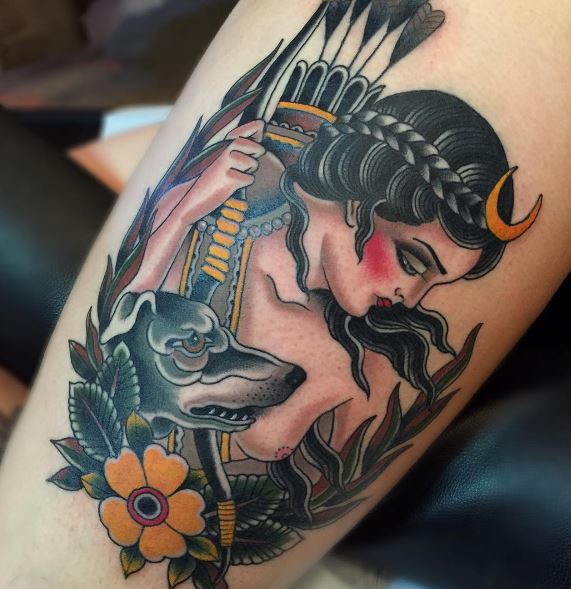 Or, alternatively, "They'll say, 'I want a woman who is a snake.' It's almost like they get to ask for their alter ego." Sometimes men will ask Sena for pin up tattoo of a woman, but she says that "the ones who really get the interesting ones?—the ladies. Those are the deeper thinkers that are asking for something that reflects them."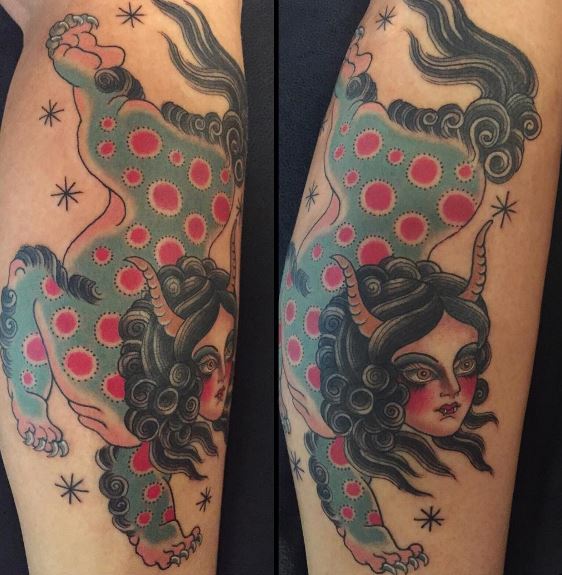 What also sets Sena's women apart from other (again, mostly male) tattoo artists is that she creates women who may be sexual but not sexualized, women who emanate agency. She creates her women consciously outside of the male gaze, and it shows, "When I draw women, I don't, I never, and I wouldn't feel comfortable, hypersexualizing them," she says.
Indeed, it does seem that Sena is a one-of-a-kind tattoo artist. She says that she has met only one other biological and medical illustrator who was also a tattoo artist, the late Steve Gilbert, author of The Tattoo History Sourcebook. Because of her "weird skill set"—a blend of science, art, and her own imagination—her botanical, anatomical, and scientific tattoos are exceptional and unique.